Puppuccino, a Starbucks Secret Menu doggy treat recipe, was created just for our fuzzy four-legged friends. Basically, the Starbucks pup cup is just an empty espresso cup filled with good old-fashioned dog-friendly whipped cream. However, dogs absolutely LOVE it … and, it's free! So, if your fur baby isn't lactose intolerant or sensitive to dairy, the next time you cruise by your local Starbucks, stop in and ask for a Puppuccino and enjoy your happy, happy dog, just a happy, happy, happy dog …
What Is In The Puppuccino On The Starbucks Secret Menu?
The Starbucks Secret Menu Puppuccino ingredients are an empty Starbucks espresso cup and whipped cream (cream, milk, mono and diglycerides, carrageenan). There is no actual coffee or caffeine in a Puppuccino.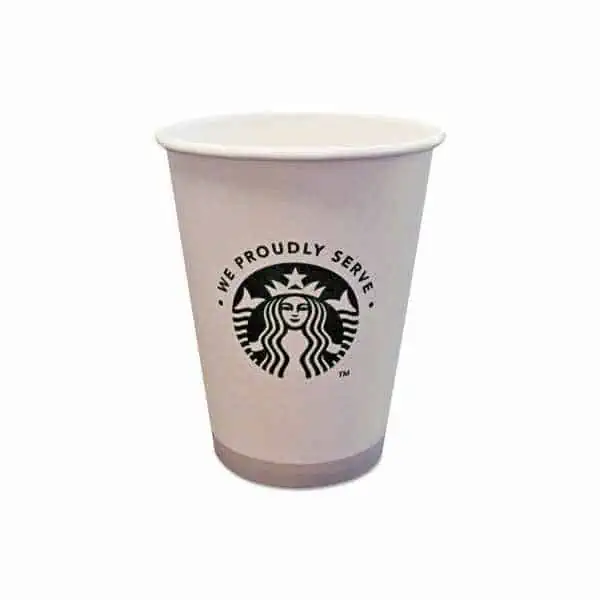 ---
Can Dogs Eat Whipped Cream?
Yes, most dogs can eat whipped cream without issue and thoroughly enjoy it. However, as with any sweet treat, moderation is the key.
Whipped cream typically contains cream, milk, sugar, vanilla, mono and diglycerides, and carrageenan. None of these ingredients are toxic for dogs when ingested in reasonable amounts. However, it is important to monitor your pooch for potential adverse reactions that may indicate doggy lactose intolerance or an allergy.
---
Are Starbucks Puppuccinos Free?
Yes. At most locations, Puppucinos are completely FREE! However, that doesn't mean you should roll through every day and load up on free doggy treats. It is nice if you also place an order for your dog's human counterpart … and, don't forget to tip your barista.
---
How To Order A Puppuccino
To order a Puppuccino from the Starbucks Secret Menu, simply ask your barista for a "Puppuccino" or a "Pup Cup." Unfortunately, at this time, Puppuccinos cannot be ordered online via the Starbucks app.
---
Some Happy Dogs Enjoying Their Puppuccinos
This cute little golden retriever puppy absolutely loves his Starbucks Pup Cup … yummy! Things got a little messy, but totally worth it. Pro Tip: Ask for extra napkins, you'll thank me later.
This tiny pup Rider woke up from a nap to his first Puppuccino. He almost fit's inside the cup!
French bulldog lovingly laps up his free Puppuccino. The French have such discerning palates.
Meeka the Siberian Husky howls for his Pup Cup in the Starbucks drive thru. That crazed look in his eyes says he is not inclined to share his treat!
---
Puppuccino … The Original Starbucks Pup Cup
Yield: 1
Starbucks Secret Menu Puppuccino Recipe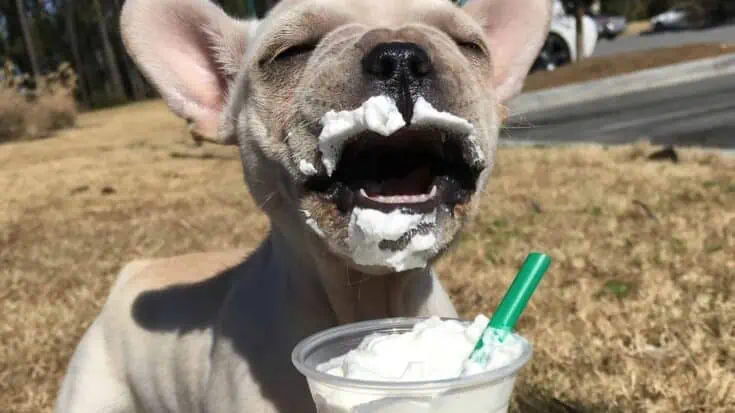 Starbucks Puppuccino is an unofficial doggie drink on the Secret Menu at Starbucks. This recipe will show you how to make one.
Instructions
Start with an empty Starbucks espresso cup.
Fill with whipped cream.
Enjoy your happy, happy dog, just a happy, happy, happy dog ...
Nutrition Information:
Yield:
1
Serving Size:
16 oz
Amount Per Serving:
Calories:

291
Total Fat:

25g
Saturated Fat:

16g
Unsaturated Fat:

0g
Cholesterol:

86mg
Sodium:

9mg
Carbohydrates:

14g
Sugar:

9g
Protein:

4g
---
More Starbucks Puppuccino Recipes
Pumpkin Spice Puppuccino, a Starbucks Secret Menu doggy "drink" recipe, is a festive seasonal variation of the immensely popular standard Puppucino. Adding the traditional sweet and spicy flavors of fall, this puppy favorite tastes just like a slice of grandma's pumpkin pie.
Full Recipe Here →
---
More Starbucks Secret Menu Coffee Recipes
→ If you liked this Puppuccino for dogs, add a little variety to your furry friend's life with the seasonal Pumpkin Spice Puppuccino. Also, try more of our hidden favorites for humans on our Starbucks Secret Menu Coffee Recipes page.
---
Source
Starbucks: Website