Mai Tai … the name evokes images of romantic barefoot walks on white sandy beaches under a Polynesian moon in the South Pacific. Island hospitality and leaving your troubles behind … literally, a world away. Yet, this bellwether vacation libation originated much closer to home … in Oakland, California at world-famous Trader Vic's tiki restaurant on the San Francisco Bay.
History of the Mai Tai
Victor "Trader Vic" Bergeron invented the Mai Tai at his now famous restaurant, Trader Vic's, in Oakland, California in 1944. Vic was a true mixologist, well-known for constantly experimenting with rum-based cocktails, and recalled the Mai Tai's creation in his book, Trader Vic's Bartender's Guide:
"I was at the service bar in my Oakland restaurant. I took down a bottle of seventeen-year-old rum. It was J. Wray Nephew from Jamaica—surprisingly golden in color, medium bodied, but with the rich pungent flavor particular to the Jamaican blends. The flavor of this great rum wasn't meant to be overpowered with heavy additions of fruit juices and flavorings. I took a fresh lime, added some orange curaçao from Holland, a dash of rock candy syrup, and a dollop of French orgeat for its subtle almond flavor. I added a generous amount of shaved ice and shook it vigorously by hand to produce the marriage I was after. Half the lime shell went into each drink for color; and I stuck in a branch of fresh mint. I gave the first two of them to Ham and Carrie Guild, friends from Tahiti, who were there that night."

Trader Vic Bergeron
Upon sampling Vic's new creation, Mrs. Guild exclaimed "Mai Tai—Roa Aé!" meaning "Out of this world—the best!" in Tahitian. And, so, Trader Vic's new vigorously-shaken rum-drink became known as the Mai Tai. The intoxicating beverage was a huge hit with Vic's regulars and made it onto the restaurant's official menu in 1947, where it has continuously remained an international favorite among vacationers for over 70 years.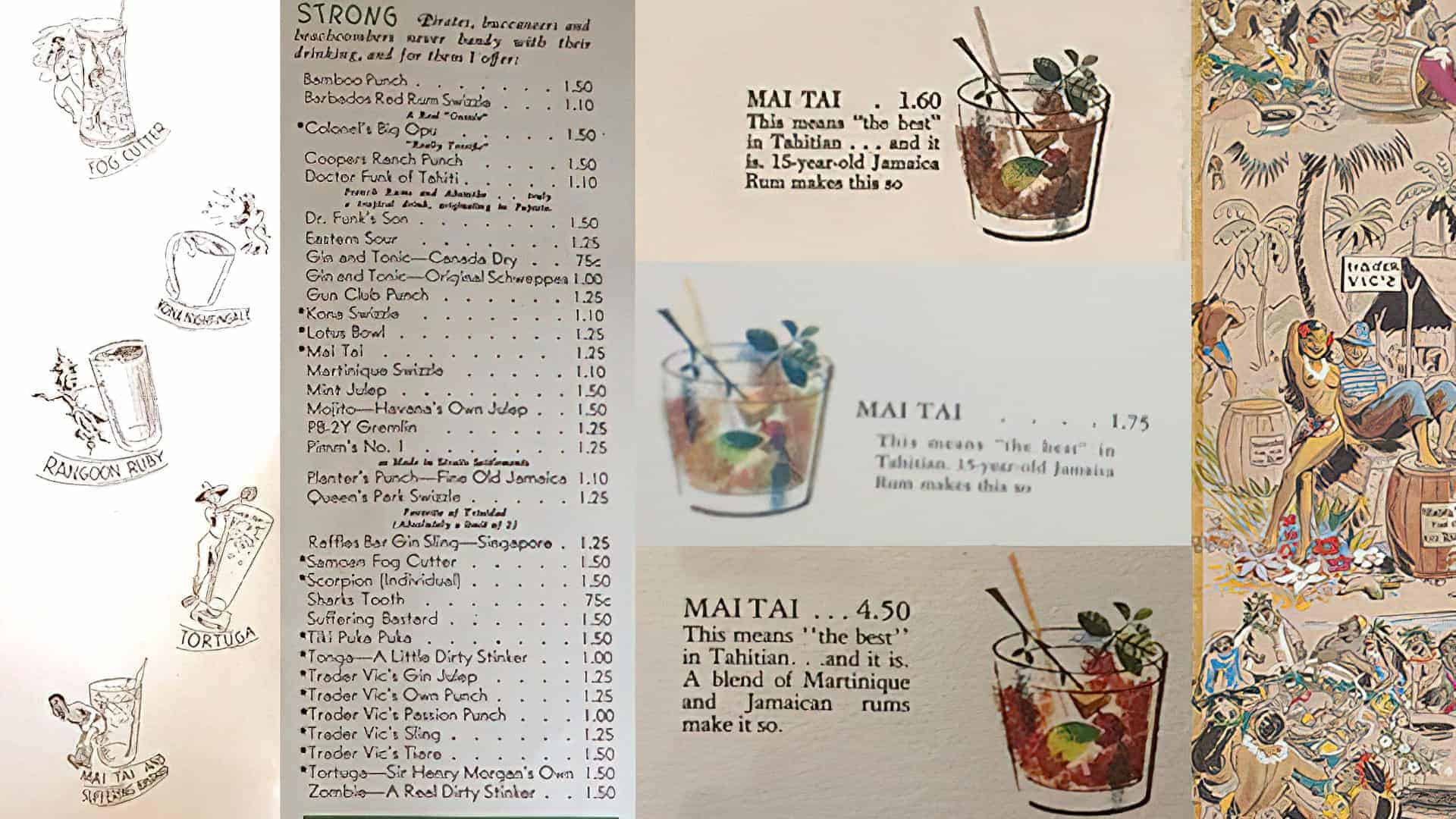 Victor Bergeron's tiki restaurant rival and fellow rum specialist, Don the Beachcomber, reportedly claimed that he invented the Mai Tai at his Polynesian-themed restaurant in Hollywood, California in 1933. However, Don's claim has mostly been discredited as his recipe is significantly different from Vic's and the Mai Tai did not appear on Don The Beachcomber menus until 1965, well after it had achieved world-wide popularity.
In Trader Vic's aforementioned book, he wrote, "Anybody who says I didn't create this drink is a dirty stinker." Since 1947, Vic's restaurant menus have referred to Don the Beachcomber's rum-drink, Zombie, as "A Real Dirty Stinker." A reference to Vic's disdain for Don's false claim ;-)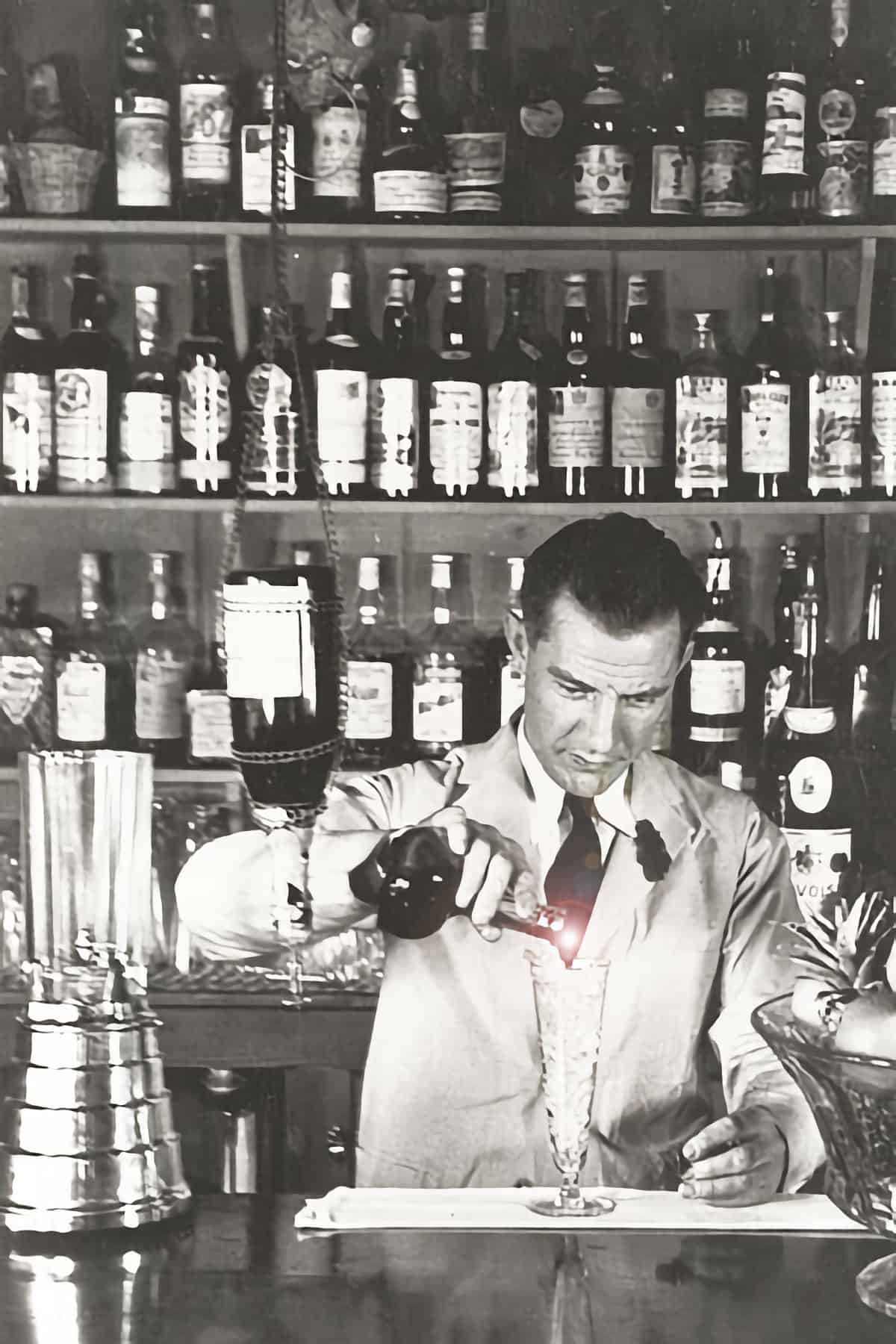 Regardless of where or by whom the original Mai Tai was invented, when prepared correctly by a knowledgeable bartender, it is truly one of the most elegant and iconic cocktails ever created. In spite its stateside origins by one of two haole mixologists, no drink is more associated with Polynesia or the Hawiian Islands than the Mai Tai. Aloha …
---
Our Favorite Mai Tai Recipe
Our favorite Mai Tai recipe, that is still being offered for a reasonable price, is the present day Trader Vic's Mai Tai. Not too sweet, not too tart, vigorously shaken and draped over a chilly bed of shaved ice and garnished with a sprig of mint, there simply is no better Mai Tai to experience than the original.
Consider following us on social media so that we can stay connected. We are on Facebook, Instagram, Pinterest, Twitter, and YouTube!
Yield: 1
Trader Vic's Mai Tai Recipe (Present Day)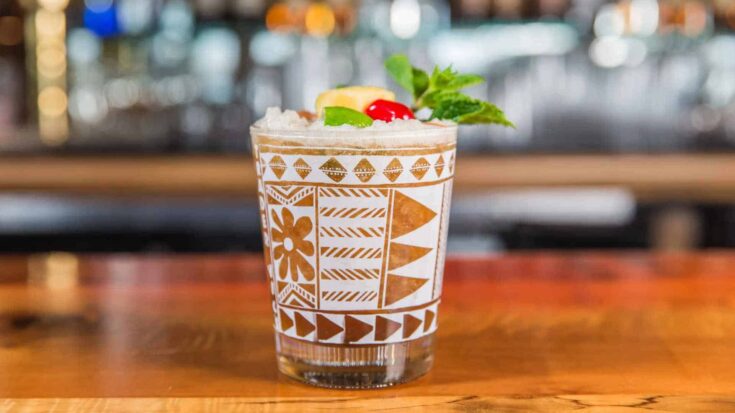 By the early 1960s, the Mai Tai had emerged as one of the world's most popular alcoholic beverages. Capitalizing on this success, Trade Vic's son, Victor Bergeron, III, decided to commercialize production of his father's rum-based libation by producing the brand's own Trader Vic's Jamaican Rum and Trader Vic's Mai Tai Mix, which are still in use in the iconic tiki restaurant today.
Ingredients
2 oz Trader Vic's Mai Tai Rum
1 cup cubed ice
1 cup shaved ice
Instructions
Combine Mai Tai Rum, Mai Tai Mix, lime juice, and cubed ice into a cocktail shaker and shake vigorously (and we mean VIGOROUSLY, it truly makes the difference between a good Mai Tai and a great Mai Tai).
Strain into an old fashioned glass over shaved ice.
Garnish with a sprig of mint.
Nutrition Information:
Yield:
1
Serving Size:
1
Amount Per Serving:
Calories:

159
Unsaturated Fat:

0g
Sodium:

2mg
Carbohydrates:

9g
Sugar:

1g
---
More Delicious Mai Tai Recipes
Trader Vic's Mai Tai, the quintessential "Tiki" cocktail, is a Polynesian favorite. It is also the original Mai Tai recipe. Invented in 1944 at the Trader Vic's restaurant in Oakland, California, this shaved ice sweet and sour concoction evokes images of white sand Tahitian beaches and Hawaiian sunsets.
Full Recipe Here →
---
Beachbum Berry's Latitude 29 Mai Tai is a more sophisticated Mai Tai cocktail than is typically served even at tiki-themed restaurants. Mixed with high caliber rums and Berry's own signature Latitude 29 Formula Orgeat, the extra effort and expense shine through.
Full Recipe Here →
---
Chuck's Original Steak House Waikiki Mai Tai was a carefully curated beach-side Mai Tai created by famous Hawaiian restaurateur, Les Hong, who demanded perfection from this complex, potent mixed drink. He declared, "It's not only the recipe. It's how you make it … the whole package, the ceramic mug, the fresh garnish."
Full Recipe Here →
---
The Mai Tai was once widely considered to be the world's most famous mixed drink. In fact, the Mai Tai's popularity was blamed for a world-wide shortage of quality rum in the mid-60s. So, it is not surprising that more than one person claims to be it's originator. Don the Beachcomber claims to have created the Mai Tai in 1933 at his tiki-themed restaurant in Hollywood.
Full Recipe Here →
---
The Lono Hollywood Mai Tai is a highly complex and bold Mai Tai recipe employing a sophisticated blend of several Jamaican & Guyanese Rums. The addition of macadamia pays tribute to the nutty flavor of Trader Vic's original, while a non-standard whisper of vanilla feels right at home in this Polynesian dream.
Full Recipe Here →
---
The Chang Mai Tai, a PF Chang's original Mai Tai recipe, delivers a powerful puch of tropical flavors evoking images of a secluded sandy beach deep in the azure blue South Pacific. Perfect for a hot summer day or when you simply need to be whisked away to a happier place, you are simply going to love this fruity vacation libation.
Full Recipe Here →
---
The Smuggler's Cove Mai Tai is an easy-to-make version of Trader Vic's original Mai Tai recipe that is dryer and slightly less sweet due to its unique dry curacao. Although not a significant variation, it will appeal to those who find the strong orange floral aroma of a traditional Mai Tai overpowering.
Full Recipe Here →
---
The Tommy Bahama Mai Tai is a non-traditional Mai Tai recipe that punches up the flavor with the unmistakeable tropical tang of pineapple juice. A delicious summery take on this vacation beverage standard, that was created in Hawaii just in time for Pauhana (Hawaiian Happy Hour).
Full Recipe Here →
---
Source
Trader Vic's: Website