Green Smoothie Recipes offer the quickest, and easiest, way to meet CDC dietary guideline recommendations of 5 to 13 servings (2½ to 6½ cups) of fruits and vegetables per day … or 2 cups of fruit and 2 cups of greens for a woman ingesting 2,000 calories per day. The benefits of such a diet include a lower risk for heart disease and stroke, lower blood pressure, protection against cancer, increased gastrointestinal health from indigestible fiber, prevention of age-related eye diseases, weight-loss and more.
To receive the maximum nutritional benefit from such a diet, variety is as important as quantity … you must vary the types of fruits and vegetables you consume as often as possible. Luckily, our green smoothie recipes provided below do just that! Our recipes offer 4 cups of green goodness and a variety of healthy organic ingredients designed to maximize nutrient absorption end enhance your natural vitality. And, they taste great … which is the key to consistently meeting fruit and vegetable dietary guidelines.
So, give our green smoothie recipes a try and let us know if they make you feel healthier and more energetic. And, feel free to drop us a line if you come across any healthy green smoothies that you would like to share with others here on Make Drinks!
Equipment Needed
A standard blender is all that is required to make green smoothies. If you are making it for just one person, we recommend using any one of the many available NutriBullet blenders as they are quick to set up and very easy to clean.
If you are making them for more than one person, we recommend a higher-end Vitamix blender that can process larger loads more efficiently.
For overnight storage, we recommend using a glass or BPA-free airtight container with a resealable lid.
---
Green Smoothie Recipes
Green Lactation smoothie is rich in phytoestrogens that promote healthy breast tissue and facilitate lactation. In addition to boosting breast milk production, phytoestrogens are also used to treat menopausal symptoms and osteoporosis.
Full Recipe Here →
---
The Joe Rogan Kale shake is packed with kale-based fiber, potassium, vitamin C and B6, and laced with garlic and ginger to give your immune system a much needed boost during cold and flu season.
Full Recipe Here →
---
The Greens is a delicious fruit and veggie smoothie that is packed with nutrients and natural fiber. Sweet apples, earthy kale and spinach, tangy pineapple, in a creamy banana base
Full Recipe Here →
---
Kale-Apple Green smoothie is soooo simple to make, and soooo good for your body. High in Iron, loaded with vitamin K, and dripping with antioxidants, kale is like a single-plant superfood. In addition, kale provides a healthy dose of omega-3 fatty acids to fight arthritis, asthma, and autoimmune disorders.
Full Recipe Here →
---
Dandy Green Machine smoothie is chalk full of phytonutrients. In fact, recent research has shown that Swiss chard contains 13 different polyphenol antioxidants, including the cardio-protective flavonoid kaempferol.
Full Recipe Here →
---
Emerald Green Elixir smoothie is a superb tasting spinach delivery system. A flavor-balanced vehicle of creamy banana, sweet-tart kiwi and honey, this Elixir improves blood glucose control in diabetics, lowers blood pressure, lowers the risk of cancer, and improves bone health for those concerned about osteoporosis.
Full Recipe Here →
---
Snickerdoodle Green smoothie tastes like the ever-popular Snickerdoodle cookie. However, whereas the cookie definitely does not fall anywhere near the "health-food" category, the Snickerdoodle Green Smoothie is bursting with phytonutrients, antioxidants, and heart-healthy monounsaturated fatty acids.
Full Recipe Here →
---
Our Favorite Green Smoothie Recipe
Our favorite Green smoothie recipe is the Jolly Green Smoothie. It is is named for the jovial green giant mascot of the Green Giant vegetable company … and that's a lot of GREENS! The abundant spinach base is balanced nicely by creamy banana and sweetened with berries to make this delicious green smoothie, not only good for you, but pleasing on the palate as well. And, this is the easiest way to get your kids to eat their vegetables. Ho, ho ho … Jolly Green Smoothie!
Consider following us on social media so that we can stay connected. We are on Facebook, Instagram, Pinterest, Twitter, and YouTube!
Yield: 1
Jolly Green Smoothie Recipe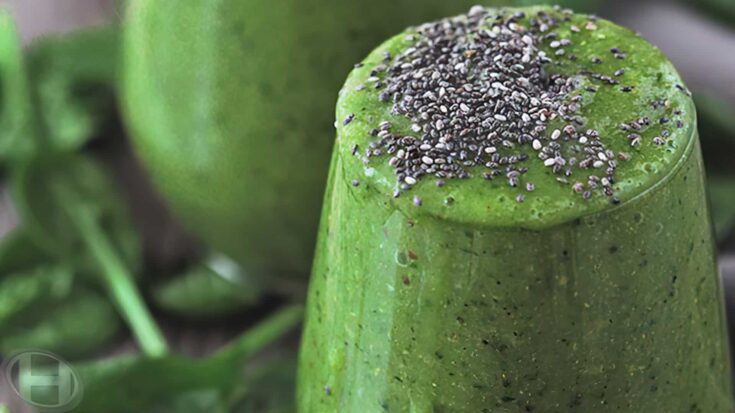 The Jolly Green Smoothie is named for the jovial green giant mascot of the Green Giant vegetable company. This recipe will show you how to make one.
Instructions
Place banana, orange, spinach, raspberries, strawberries, unsweetened almond milk, honey, and ice into a blender and secure the lid.
Start the blender on its lowest speed and steadily ramp up to its highest speed. This will reduce wear and tear on the motor and blades, facilitate a more consistent blend, and help prevent food splatter onto the lid and sides.
Blend for approximately 30 seconds or until a smooth consistency is achieved.
Pour into a glass for immediate refreshment or place in the refrigerator in an airtight container to enjoy later.
Notes
For ease of use, we recommend peeling and slicing a number of bananas, putting them in a freezer bag, and storing them in your freezer for quick access.
If you don't have frozen fruit, or simply prefer to use fresh fruit (we totally get that), we recommend adding 1/2 cup of ice to chill your smoothie and give it a pleasing icy texture.
Recommended Products
Nutrition Information:
Yield:
1
Serving Size:
1 g
Amount Per Serving:
Calories:

223
Total Fat:

3g
Unsaturated Fat:

0g
Sodium:

374mg
Carbohydrates:

48g
Fiber:

7g
Sugar:

34g
Protein:

4g
---
Green Smoothie Frequently Asked Questions
What are the health benefits of green smoothies?
Green smoothies can offer a range of health benefits, primarily due to the nutrient-dense ingredients they contain. They are typically made with leafy green vegetables like spinach, kale, or swiss chard, which are high in vitamins, minerals, and fiber. These nutrients can support overall health, promote good digestion, and aid in detoxification. When blended with fruits, green smoothies can also be a good source of antioxidants, which protect your body from harmful free radicals. In addition, green smoothies are a great way to increase your daily intake of vegetables and can provide sustained energy due to their high fiber content and low glycemic index.
How can I reduce the bitterness of green smoothies?
Reducing the bitterness in green smoothies can be achieved by balancing the flavors correctly. One common method is to include a balance of sweet fruits in your smoothie. Fruits like bananas, mangoes, or pineapples are often used to counteract the bitter taste of greens. Adding a bit of healthy fat, like avocado, can also help balance out the bitterness. Another tip is to blend the greens with the liquid first until all the leafy chunks are gone before adding the other ingredients. Lastly, if the smoothie is still too bitter, a small amount of natural sweetener, like honey or agave, could be added. However, it's best to use sweeteners sparingly to keep the smoothie as healthy as possible.
---
More Smoothie Recipes
→ If you liked these revitalizing Green Smoothie Recipes, try more cleansing favorites on our Detox Smoothie Recipes page.
---
Source
USDA MyPlate: Website