Thank You Jesus, a Jamba Juice Secret Menu smoothie recipe, is a professed "holy" drink that is extremely popular with Jamba devotees. Mouthwateringly tart from the lemonade and lime and pineapple sherbets, this heavenly beverage is sure to bring a slight tear to your eye. Perfect for drinking on a Sundae (See what we did there?).
Key Ingredients
The Jamba Juice Secret Menu Thank You Jesus smoothie ingredients are:
lime sherbet
pineapple sherbet
---
Health Benefits
Strawberries – Strawberries are a flavorful staple of many healthy smoothies and shakes. They are an excellent source of several important antioxidants and beneficial plant compounds including pelargonidin, ellagic acid, ellagitannins, and procyanidins. Strawberries are widely known to decrease the risk of heart disease, help regulate blood sugar, and reduce the risk of certain cancers.
Lemonade – Lemons are a sour citrus fruit that are packed with antioxidants and various other beneficial plan compounds. Just one lemon provides more than 50% of your recommended daily intake of cold and flu-busting vitamin C. Lemons are also known to aid weight loss, prevent kidney stones, and protect against anemia. [Amazon]
Soy Milk – Soy milk is a dairy substitute made from soybeans and water. It is an excellent source of protein, potassium, and is often fortified with vitamin A, vitamin B12, and vitamin D. Also, being plant-based, soy milk contains no cholesterol, no lactose, and is very low in saturated fat.
Lime Sherbet – Limes are a sour citrus fruit that are best known for their immunity boosting nutrients. They are loaded with vitamin C and contain other important minerals such as riboflavin and niacin. Limes are also known to reduce the risk of heart disease, prevent kidney stones, and aid in the absorption of iron.
Pineapple Sherbet – Pineapples are popular tangy tropical fruit that, surprising to most, originated in South America, not Hawaii. They are absolutely loaded with antioxidants and nutrients, including a ridiculously high amount of vitamin C (1 serving = 131% of the recommended daily intake), manganese, vitamin B6, and thiamin. Pineapples also contain a significant amount of the digestive enzymes bromelain that can help fight pancreatic cancer.
---
How Do I Order From The Jamba Juice Secret Menu?
Most Jamba Juice employees know many of the Secret Menu recipes, especially the popular ones, so all you need to do is ask. However, if it is a particularly obscure or experimental drink, or if you get an inexperienced server, just bookmark this recipe and whip out your phone the next time you are at Jamba Juice … if they aren't too busy with other customers, Jamba Juice employees will generally oblige. And, as always, don't forget to tip your drink-maker!
---
Equipment Needed To Make At Home
A standard blender is all that is required to make these delicious smoothies. If you are making it for just one person, we recommend using the truly amazing personal NutriBullet Ultra as it is super-quick to set up and very easy to clean.
If you are making them for more than one person, we recommend a higher-end Vitamix blender that can process larger loads more efficiently.
For overnight storage, we recommend using a glass or BPA-free airtight container with a resealable lid.
Yield: 1
Jamba Juice Secret Menu Thank You Jesus Smoothie Recipe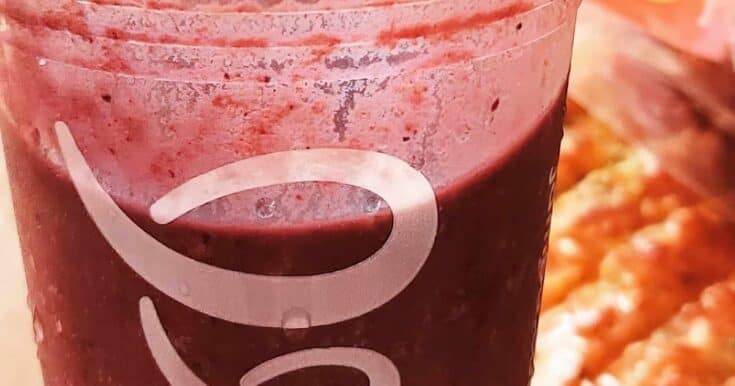 Jamba Juice Secret Menu Thank You Jesus smoothie recipe tastes like a smooth and creamy strawberry lemonade. This recipe will show you how to make one.
Ingredients
1 cup strawberries, frozen
1 cup lemonade
1/2 cup lime sherbet
1/2 cup pineapple sherbet
1/2 cup ice
Instructions
Place strawberries, lemonade, soy milk, lime sherbet, pineapple sherbet, and ice into a blender and blend until a smooth consistency is achieved.
Pour into a glass for immediate refreshment or place in the refrigerator to enjoy later.
Notes
If you don't have frozen fruit, or simply prefer to use fresh fruit (we totally get that), we recommend adding 1/2 cup of ice to chill your smoothie and give it a pleasing icy texture.
Nutrition Information:
Yield:
1
Serving Size:
1 grams
Amount Per Serving:
Calories:

229
Total Fat:

12g
Saturated Fat:

4g
Unsaturated Fat:

2g
Cholesterol:

12mg
Sodium:

386mg
Carbohydrates:

156g
Fiber:

9g
Sugar:

113g
Protein:

27g
---
More Jamba Juice Secret Menu Smoothie Recipes
→ If you liked this Thank You Jesus recipe, try more of our delicious favorites on our Jamba Juice Secret Menu Smoothie Recipes page.
---
Source
Jamba Juice: Website